35,524
people like this -
Like
Great films. Great science. Great discussions.
The 2nd Tuesday of every month, join us for free movie screenings followed by lively discussion with an expert in the field, presented by the Natural History Museum of Utah in partnership with the Utah Film Center, and The City Library. All films begin at 7pm in the Main Library Auditorium. Visit the Natural History Museum of Utah's Science Movie Night webpage for more information.

---
SCHEDULED EVENTS
TUE, SEP 9, 7pm



Notes on Blindness
Directed by Peter Middleton and James Spinney
Not Rated | 13 min. | 2014 | U.K/U.S./Australia
In 1983, writer and theologian John Hull became blind. To help make sense of his loss, he began keeping an audio diary. Encompassing dreams, memories, and his imaginative life, Notes on Blindness immerses the viewer in Hull's experience of blindness.
Official selection - 2014 Sundance Film Festival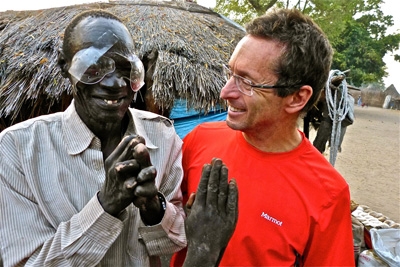 Duk County
Directed by Jordan Campbell
Not Rated | 36 min. | 2013 | U.S./Sudan
Duk County is a moving story about a bold, five-day mission to deliver eye care in a remote and war-torn region of South Sudan - the world's newest country. It chronicles the miraculous work of Dr. Geoff Tabin and Dr. Alan Crandall; two eye surgeons committed to eradicating preventable blindness in Africa, and John Dau, one of the original Lost Boys of Sudan and a visionary for peace in South Sudan's precarious new independence.
Winner - Norman Vaughan Indomitable Spirit Award - 2013 Telluride MountainFilm Festival (2013)
Winner - Moving Mountains Prize - Telluride MountainFilm Festival (2013)
After these two films, Michael Yei, the Manager of the International and Domestic Outreach Division at The John A. Moran Eye Center, will discuss the global burden of blindness and its impact on communities and individuals. Dr. Alan Crandall, M.D., the John A. Moran Presidential Professor and Senior Vice-Chair of Ophthalmology and Visual Sciences, will talk about the causes and treatment of blindness and the work the Moran Eye Center's Outreach Division is doing do help end preventable, curable blindness around the world.
---
TUE, OCT 21, 7pm
The October film will take place on the third Tuesday of the month



Particle Fever
Directed by Mark Levinson
Not Rated | 99 min. | 2013 | U.S.
This film follows the inside story of six brilliant scientists seeking to unravel the mysteries of the universe, documenting the successes and setbacks in the planet's most significant and inspiring scientific breakthrough - the launch of the Large Hadron Collider. Particle Fever is a celebration of discovery, revealing the very human stories behind the tale of this epic experiment.
After the film, Dr. Charlie Jui, profressor of physics and astronomy at the University of Utah, will give an overview of the Standard Model of Particles and the history of important discoveries leading up to the LHC and the Higgs' Boson. He will speak to the high drama in the film from the point of view of a particle experimentalist.
Location: Main Library Auditorium
Contact Information: 801-524-8200